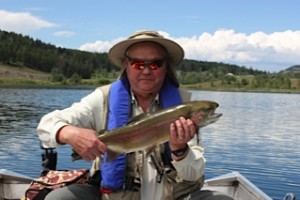 Corbett Lake Hosted Outing
July 5 thru 9, 2014
Corbett Lake is a private lake that was owned and managed by Peter McVey.  It has been designated a quality fly fishing only fishery and catch and release fishing is encouraged.  You can keep 2 fish during your stay but most of the visitors release all of their catch.  It is requested that no-one keep any of the 5 pound plus fish that are in the lake.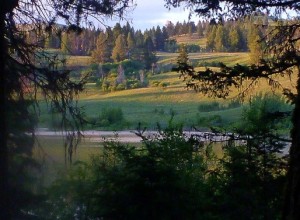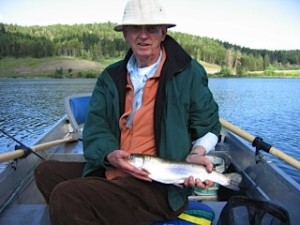 All the participants from last year had such a good time they will all return this year.  If we have a large enough group, we will be staying in two large side by side cabins on the lake.  You can bring your own boat (electric motors only), float tube, kick boat or rent one of their boats.  The cost will range from $60 to $90 per day depending on how many people attend and the type of floating device used.  This includes everything but meals.  (See below for a breakdown of the fees.)  If the size of the group exceeds 12, I will get another cabin for the overflow.
The drive is about 5 hours from Bellevue.  It is freeway all the way and there is no longer any toll on the Coquihalla highway.  Drive to Merritt BC, take the first Merritt exit and head east on the Highway to Princeton. Look for the Corbett Lake Country Inn sign on the right about 5-6 miles from the Merritt exit.  Turn left into the entrance and follow the driveway to the main lodge which is the first building on the left and check in.  We will be staying in the two adjoining large cabins which are below the main lodge.
Each cabin has one small bedroom and a loft with up to 5 beds.  There are adequate dressers and racks for stowing and hanging your fishing clothes.  The basic fee for each cabin is $150 per day for the first 2 occupants. Each additional person will be $25 per day.  The cabins are equipped with a full kitchen, dishes and cooking utensils. There is daily cleaning and linen service.   If we cook for ourselves then we will have to do the dishes after each meal. Breakfast and dinners are available in the lodge with reservations.  Breakfast is $10 and dinner is $25.  I'd suggest that we buddy up into a few small groups and each group plan to prepare one dinner for all.  (Last year, we chose to eat in the dining room the first night to reduce the arrival hassle.  She served prime rib.)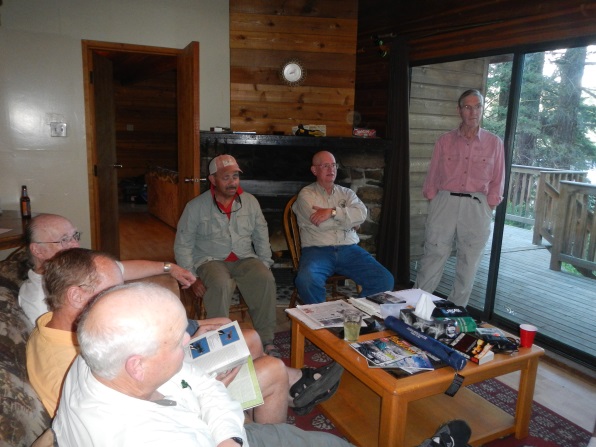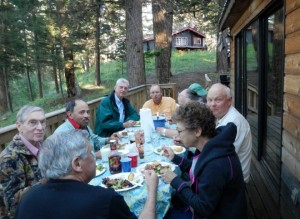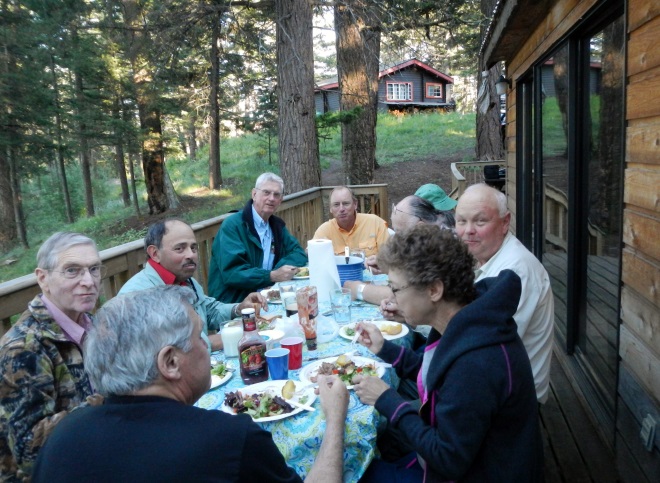 There is a launch fee of $30 per day if you use your own floating device (float tube, kick boat or your own boat) or you can rent one of their boats at $40 per day which includes the launch fee. If there is a group of 12, the daily cost will be around $75 per day if we each use individual floating devices or around $60 per day if we all buddy up in our boats.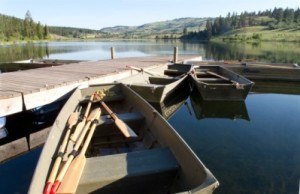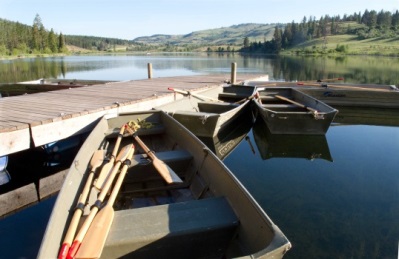 Even though the lake is private, you will need a BC license.  The average fish runs around 3 pounds with an occasional one in the teens. It is a quality fishery but you can keep up to 2 fish if you wish.  I usually keep one small one to have prepared for breakfast in the lodge. They do a great job of filleting and cooking it in the morning.  Remember to bring a large net and keep in mind that all fish over 5 pounds must be released.  This is a great fishery and is generally pretty un-crowded at this time of the year. The fish are all hard fighters and a lot of fun!
Please feel free to call me or e-mail me if you have any questionss.
Ed Kane, 425 746-8542, cekane2@earthlink.net.