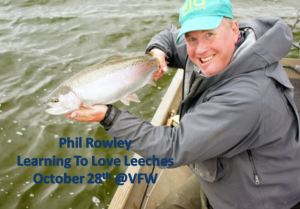 You should have received your Evite for the monthly meeting on October 28th.
Please RSVP for the dinner count only which is due on Monday Oct 20th.  RSVP 'No' to just attend the meeting or if you can't make it, and then you won't receive another reminder.  RSVP 'Yes' if you are eating, and remember to clear the "Notify me…" box.  Change your RSVP through the same link.
This month's program is all-star stillwater fisherman and famous author Phil Rowley. Phil's presentation is Learning to Love Leeches. Phil is very popular and we are expecting a full house. So RSVP early to save a seat.
Social Hour 5:30-6:30
Dinner 6:30-7:15
Program 7:30-9:00