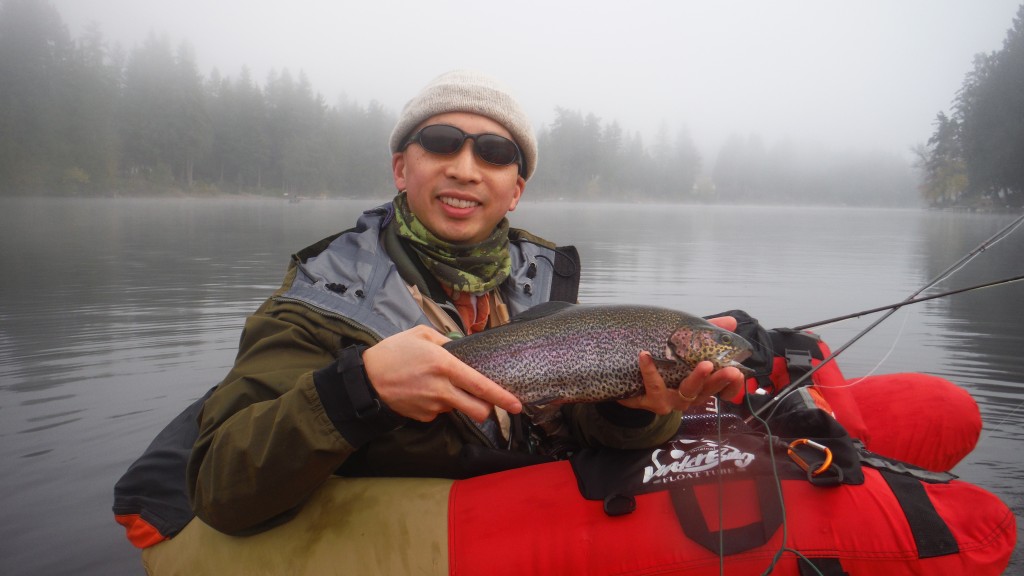 Beaver lake was stocked on October 15th with large 2+ pound "demonstration" trout from the Issaquah hatchery and drew a record crowd of over a dozen OFFC fly fishermen.  Many people limited out quickly, but fishing has slowed considerably since then.  I visited for a couple hours on Friday Oct 23rd and didn't see a single fish caught.  It looks like Green Lake will receive 10,000 trout this week (Oct 26 – 30th) and an additional 5,000 in the following two weeks!  Angle lake will also receive 8,000 Oct 26-30.
For a full list of lakes to be stocked, and the department's recently updated stocking plan, go to http://wdfw.wa.gov/fishing/ fall-into-fishing.
An estimated 125,000 trout will be stocked in 44 western Washington lakes to give anglers improved fishing opportunities this fall and into the holiday season.
"Fishing at lakes throughout the region should be great over the next few months," Larry Phillips, inland fish program manager for the state Department of Fish and Wildlife, said in a news release. "Most of the trout are 11 to 13 inches long, with a few larger ones in the mix."
Some of the lakes recently stocked include Beaver in King County, Teal in Jefferson County, and Island, Lost, Spenser and Nahwatzel lakes in Mason County.
The stocking will continue through November.
The fall fish plants, Phillips said, are in response to anglers' requests to increase fall and winter trout fishing opportunities in western Washington.
The fall stocking plan includes planting lakes in southwest Washington for the Nov. 27 Black Friday opener, giving anglers the opportunity to skip the shopping malls, get outside and enjoy fishing on the day after Thanksgiving.