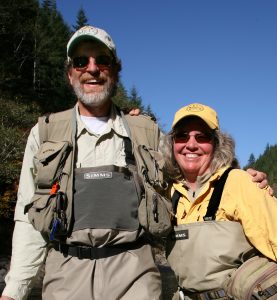 Mary Ann and Dave Dozer reside in the small community of Sisters, Oregon, about 15 miles west of Bend.
Mary Ann is a Fly Fishers International Master Casting Instructor and is a member of the FFI Casting Board of Governors.   Her first fly fishing experience was in 1995 in Yellowstone Park and her passion for the sport took hold. When her high-tech career wound down after 20 years, Mary Ann opted to pursue her passion for fly fishing and share it with others. Mary Ann has been teaching & guiding for 10 years in Oregon and Idaho. She currently guides full-time in Central Oregon for the Fly Fishers Place in Sisters, Oregon.  She loves to introduce new anglers to fly fishing or take anglers' skill to that next level. Her love and finesse of casting has put her on the Winston Pro-Staff Team. Mary Ann is available for casting instruction, fly fishing workshops, and presentations.
Dave Dozer had a fishing rod in his hand as soon as he could walk, and caught his first fish, a carp on a night-crawler, at the age of 4.  His father had an old bamboo fly rod in Dave's hands by the time he was 8, and he was tying his own flies at the age of 10.  Over the past 40 years, Dave has fished extensively across northern California, Oregon, eastern Washington and central British Columbia.  Several years ago, Dave focused his efforts towards learning the art and craftsmanship of building bamboo fly rods.  He now designs and builds custom bamboo fly rods under the company name of Bamboo Pursuits.  He also offers bamboo rod building classes where he mentors one or two students through the rod building process.
Their presentation at the club meeting will be "Building a Bamboo Fly Rod".  Mary Ann will share her experiences with building her first bamboo fly rod last year, and Dave will help fill in some of the technical details of how bamboo fly rods are made today.