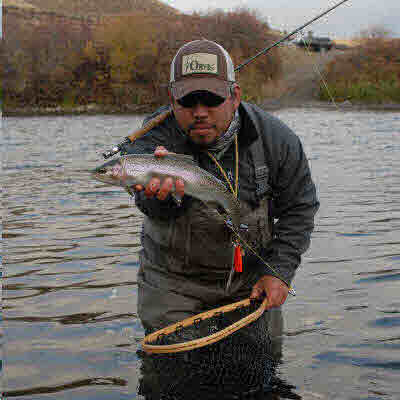 Todd is a senior guide with Ellensburg Anglers that will share the walk in access points, best flows, equipment, flies and methods to fish the Yakima River.
Todd Fuchigami grew up fishing the reefs and open water of Oahu, Hawaii. He joined the Army in 2003 and has been stationed throughout the continental U.S. Todd was first introduced into the world of fly fishing while being stationed in North Carolina. His first trout caught on a fly was in the Smoky Mountains. Since that time he's been addicted to fly fishing and sharing his passion with others.
His job in the Army as a Flight Medic and Medical Instructor is apparent when he's working with new anglers. He's fished for striped bass off the coast of New York, stalked monster bonefish in Hawaii, and chased trout in several states on both coasts. Todd's true passion is chasing trout in the desert creeks of Eastern Washington.
Todd will be sharing how to fish the Yakima River with emphasis on wading access.